By Ellen F. Franklin, PhD
"A life without love is of no account. Don't ask yourself what kind of love you should seek, spiritual or material, divine or mundane, Eastern or Western. Divisions only lead to more divisions. Love has no labels, no definitions. It is what it is, pure and simple. Love is the water of life. And a lover is a soul of fire! The universe turns differently when fire loves water." — Rumi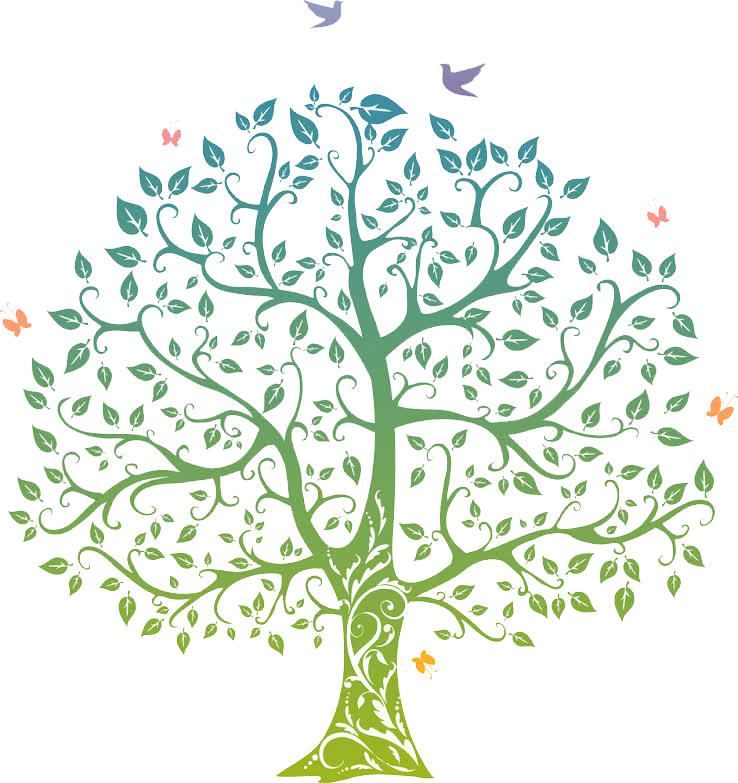 As I reel from one act of domestic terror after another the senseless slaughter at the Tree of Life Synagogue in Pittsburgh hit me particularly hard. In my meditation and reflections trying to make sense of the senseless I am reminded that The Tree of Life is a powerful symbol that represents new beginnings, positive energy, good health and a bright future. It is a symbol of immortality that has stood for thousands of years as a representation of the divine female and is related to the Mother Goddess, creation, birth and healing, also serving as a link between Heaven, Earth and Humanity. In many myths the Tree of Life rises up from the center of the Universe, the world navel from which all things emerge. I hope and pray that from this enormous loss there is genuine healing and a new vision for how to live and love together in all of our uniqueness. Let these differences emerge through strength and clarity, so that we are not governed by fears, or misdirected anger but LOVE.
Although a tree will grow old it still bears seeds that contain the essence of life a symbol of growth and strength. From a tiny acorn the mighty oak emerges. We are all being asked to find the mighty oak within ourselves.
Unfortunately, the shooting in Pittsburgh is just one example of acts of hate directed at innocent people. There is escalation of attacks on immigrants, children are still separated from their parents or living in internment camps with their parents and just today the US president stated that he will issue an executive order to ban birthright citizenship which is protected in the US constitution. Following on the heals of misogynistic acts against women and vitriolic fascist hate directed at anyone who is other these challenging times demand compassion and an open heart.
Although difficult, we cannot, must not, give in or give up as we bear witness to horrific events, propagated by so-called leaders in many governments around the world. Blatant lies and attacks of the free press must not continue. Amidst all of this we must find the capacity to send love and light out to the planet, to open our heart to others and to continue to speak out and not give in to fear. On November 6 we have mid-term elections here in the United States, an opportunity to exercise our right to vote and speak truth to power. Please vote! Wherever you live, in whatever country you reside this is a time to hold leaders to account for their actions, just as we each must be accountable for our own actions and words.
With an open heart try to reframe conversations based on truth not lies, without anger or vitriol, seek common ground. Beyond the political action we choose to take we must take care of ourselves so that we are able to be present for our clients.
Many of us are personally experiencing or clinically working with clients who present with the physical and emotional consequences associated with unresolved or continuous high levels of stress. In a 2012 study Cohen et al., (2012) identified chronic stress as the key factor in glucocorticoid receptor resistance (GCR). If glucocorticoid regulation fails, the inflammatory response increases and there is greater risk of disease including colds, asthma, autoimmune disease and chronic inflammatory diseases. Physiological and psychological stress also impact the brain and activates the behavioral and neuroendocrine systems that link to metabolic and emotional outputs designed to adapt to these demands. Failure to integrate the physiological response to stress may have severe psychological consequences, including depression, negative emotional states and impaired social relationships. We have the tools to tackle stress head on through the applied use of sound vibration, we can support physiological and psychological shifts that allow us to find harmony and to choose love.
Ohm Unison, Ohm Octave, or Mars Venus and a simple point protocol is something that you can teach to your clients so that the beneficial effects of Acutonics® can be with them between their sessions with you. My self-care study with nurses to address symptoms of severe stress and compassion fatigue incorporated the use of Ohm Unison, Zodiac, Mars, Venus and Chiron into a basic ten-point protocol. However, even a simple approach of working with just KID 1, Gushing Spring, LIV 3, Great Surge to get at the pent-up emotions and anger that often results in pain and the three treasures Ren 4, Origin Pass, Ren 17, Heart Center and DU 20, Hundred Convergences can provide amazing relief for anxiety, poor sleep, and pain. Simple point protocols are provided in the Ohm Unison set and the Mars Venus Set. In this newsletter and in the News section of the website there are numerous self-care affirmations provided by Judy Bernard. Please stop, take the time to care for yourself. I also encourage you to reach out to others to share sound meditations, play the gongs and work to create unity through harmony.
"Music creates order out of chaos; for rhythm imposes unanimity upon the divergent, melody imposes continuity upon the disjointed, and harmony imposes compatibility upon the incongruous." –Yehudi Menuhin, 1972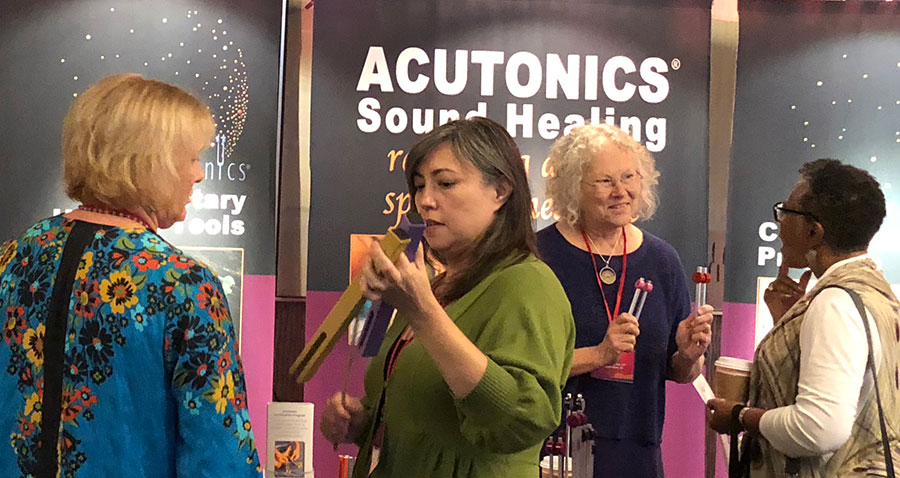 There were two lovely opportunities in October to be with our community to introduce Acutonics to others. Tremendous gratitude to Grand Master Nan Lu and the staff of the TCM World Foundation and the Building Bridges Conference for the amazing welcome we received. It was a pleasure for me to play the gongs with Maren Good for this group. I am also grateful for the assistance offered at the conference and during my talk by Tina Morani, Maren Good and Carol Cobine. I am just back from the Pacific Symposium where we met many new people and visited with old friends. Many thanks to Ann Halloran, Lynn Wedekind, Katie Mink, Katie Fisher, Lucinda Toy and Will Vukmanic who volunteered to help at this busy conference.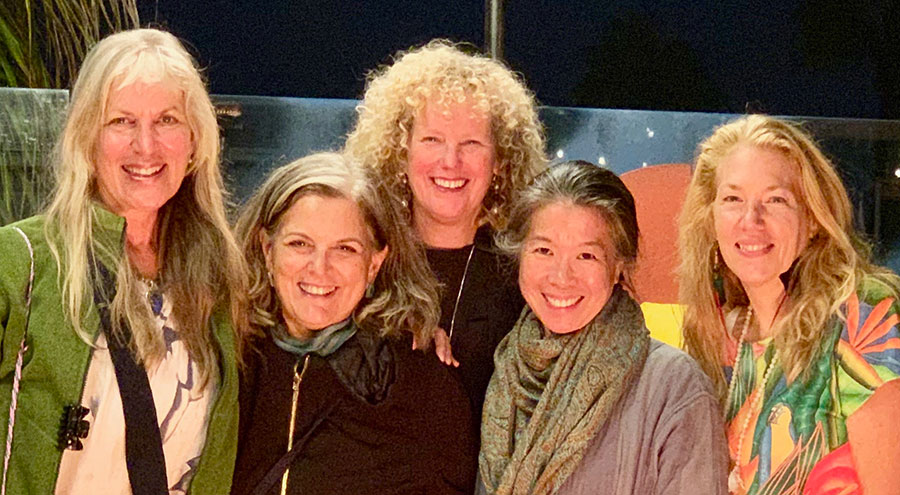 I just learned that I've been invited to present a full-day pre-conference workshop at the 2019 Energy Psychology Conference which this year is at the Tamaya Resort, Santa Ana Pueblo, New Mexico May 3-5, 2019. My one-day workshop titled Changing the Narrative: Sound Strategies for Clinical Practice will be on May 2. I hope to see you there.
Later this month in the US we celebrate the Thanksgiving holiday, a time when families and friends often come together to share a feast and watch football. But, let's also take time to focus on all the good in life, the bounty and abundance that surrounds us and send love and gratitude to the planet for the many blessings we receive each day. We send you blessings of love and light for this holiday season may you find the melody and harmony in your daily life and practices.