Roderick is newly certified as an Acutonics Practitioner. He began his studies in November 2013, with Barrie C. Andrews in Questa, New Mexico. Roderick completed Acutonics Levels I – IV, and Point and Meridians, with Barrie and began assisting Barrie in the community Acutonics clinics held in her center, OCHO, an art, event and teaching space. Roderick completed his Acutonics studies at the Mothership. Where in addition to the core curriculum he completed 3 electives, Harmonic Geometry: The Fibonacci Process with Ron LaPlace, Evolution of Consciousness with Erin Taylor, and the NSEV: Non Somatic Extraordinary Vessels with Alicia Villamarin.
A skilled carpenter, Roderick has also assisted with many projects here at the Mothership and it is this skill combined with his love of music that led him to create a wind harp as his thesis project. The wind harp is installed on the land near the yurt. Designed so that you can sit inside or listen from a distance it is a great addition to the art installations on our land, entitled Wind on Strings. Roderick wrote: "The intent of this thesis is to bring some of the sweet, beautiful music of the spheres and music of the elementals to our ears." Constructed of wood and nylon strings with a tin roof. Roderick provided a poetic artist's statement, with a brief excerpt provided below.

Her poetry
her music
her enchantment
wind speaks to us
through strings
Listen
hear her words…
With wings of healing words
Listen to what the winds say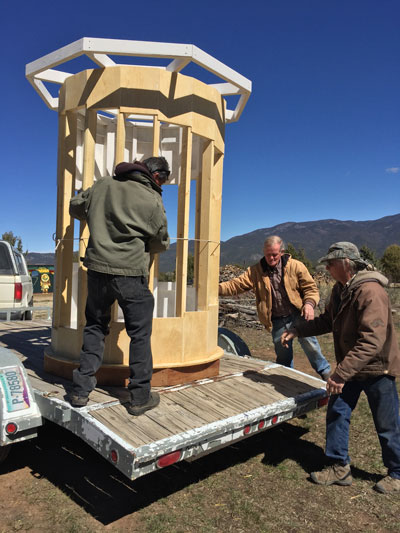 Roderick is from Roseville, Minnesota just north of St. Paul. For more than thirty years he has been drawn to the land and to working with animals, which he describes as a creative outlet. He was a dairy farmer in Minnesota for ten years and raised sheep in Wisconsin for seven years. Additionally, he worked in a nursery and did landscaping. In winter he would supplement his income by doing tax preparation.
After experiencing several huge losses, the death of both his parents, the end of his second marriage and loss of his community, he recognized that he needed to take time to heal, which for him meant travel. He described an airline flight to San Diego to visit family as providing a moment of clarity. "We had been in the clouds since leaving the Twin Cities, but there was a moment as I looked out when the clouds lifted and my first aerial view of the mountain and desert landscape emerged. I knew I would return to this place."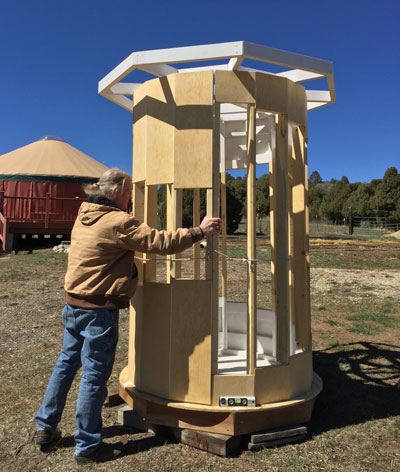 After his visit to San Diego, Roderick returned home, packed up his truck and took to the road in search of the mountains he'd seen from the airplane. He spent significant time in the Four Corners area where Utah, Colorado, New Mexico and Arizona meet. Eventually, his travels took him to Questa, New Mexico where he has lived since 2000. Like many who live here he felt called to the land and the expansive mountain vistas, the big open sky and amazing light that drew many artists to Taos New Mexico in the early 1900's. "New Mexico is home now, it became home in a very different way than Minnesota and Wisconsin, I truly feel that this is where I belong," Roderick stated.
Soon after he settled in Questa, Roderick began working with clay, completing an apprenticeship with Shel Neymark in Rinconada, New Mexico, a highly respected ceramic artist. He also studied for a year and a half at Santa Fe Clay and some of his early work was featured in a show at St. Johns College. In addition to his work with clay Roderick has worked with a local CSA (Community Shared Agriculture) and has done a number of construction projects.
However, it was at an herbal class where Roderick first met Barrie Andrews, learned about her work with sound, and scheduled a treatment with her. From his very first session in 2012 Roderick was hooked, and began to study Acutonics in 2013. He credits the book Sacred Space, Sacred Sound: The Acoustic Mysteries of Holy Places by Susan Hale, with awakening him to the power of sound vibration to change space and place. The practical applications for sound vibration were further illuminated for him, through his very first Acutonics class. Roderick reflected: "I marvel at what sound can do, the powerful shifts that I observe when I work with these tools. Acutonics really embodies the coming together of modern science and ancient wisdom, as discoveries in physics prove what was known thousands of years ago by shamans."
Roderick is currently working out of the Carnelian Center in Dixon, New Mexico offering Acutonics sessions to the local community by donation. Despite completing his studies to be a Certified Acutonics® Practitioner Roderick looks forward to continuing his studies, planning to take new electives that will be offered this summer at the Mothership. If you'd like to be in touch with Roderick he can be emailed at roderickok@hotmail.com, or by phone at 575-613-3245.